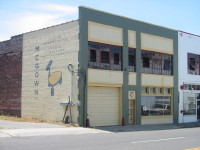 McGown Studio - 413 Monroe
mcgowninc.com - memphisrocker.com
Will McGown is an artist and designer who has been building wood furniture in the Memphis area since 1992. His pieces are composed of traditional, all solid wood joinery, and in this, his work is a throwback to an earlier time when furniture lasted and pieces could be handed down through generations. His designs emphasize strong, clean lines and reveal influences from Art Deco and the work of Frank Lloyd Wright.
"To establish the Memphis region as an internationally recognized center for the development and commercialization of biomedical technologies."
Welcome to The Edge on Monroe in downtown Memphis! Located near everything downtown, The Edge is a 25 unit building that features unique architecture with luxury standards such as granite countertops, stainless appliances, and hardwood floors!
To pursue the priorities outlined in the Master Plan so that the Memphis Medical Center can become a place where education, innovative research, development and clinical care matters each day, is attractive to both business and new talent from across the country and is a safe and nurturing place for health and healthy living.
MADISON19 - Smart, Cool, Green.
Madison 19, an intelligently designed new condominium, embraces a progressive approach to urban living.
"The Palace" is Memphis' coolest party place! Located at 629 Monroe, "In the Heart of Memphis, at the Edge of Downtown"
Bringing innovative ideas to life has been the focal point of Premiere Contractors for over a decade. Our experienced in-house team of construction specialists and architectural designers work to keep Premiere Contractors on the cutting edge of construction and design.